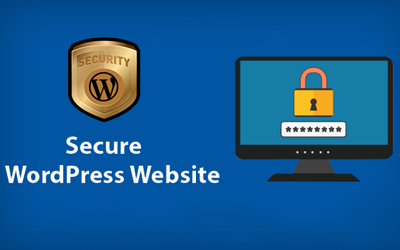 In this web development era, the most preferred open source platform used for creating attractive websites is WordPress. It is one of the CMS that is free and easily accessible by all. There is a large community of WP developers that are constantly working for updating the software, creating additional plugins and providing support through online forums.
Unfortunately, this open source platform that is currently ruling the online market is at the target point of hackers. Due to its popularity and wider audience, managing the security of this content management system is coming up as a challenge.
To prevent your WordPress website from potential hacks and other security threats, its important that you secure it yourself with the help of below given ways.
Update installation, themes, plugins

Most of the cyber attacks that are experienced by WP sites is due to the use of older versions of plugins and themes. Most possibly, an updation is done to overcome the existing challenges faced by an open source website component. When a backdoor within a plugin is accessed by a hacker, he'll inject malicious code into it that will ruin the security of your website. Therefore, never ignore the notifications for the theme, plugin and WP version updates.

Move the administration directory

Open source platforms do come with an admin panel where a developer can log in to update, edit, delete or modify the website content or functionality. It also helps in accessing the database or backend of a WP site. The access URL for admin panel log in screen is always at an easy target for hackers. To prevent unauthorized admin access, move the current location of your admin directory to some other folder within the website and apply a redirect link. This will not allow the hackers to find a way to access the admin URL.

Optimize Your Site's Database

Optimize the database of your website to clean up the junk and maintain a good speed of your site. You don't have to be a technical professional to perform this job. There are various plugins that can speed up your website such as WP-Optimize, WP Clean Up Optimizer, WP-DBManager. Every new addition puts more load on your website so time to time optimization is necessary.

Security plugins

By installing paid plugins, one can greatly improve the security of an open source website. These plugins will act as a defense barrier that will not allow an unauthorized user to attempt log in or eliminate any coding or element. Paid plugins are comparatively more secure compared to the free ones available online.

Set file permissions

After you have 100% control over your site, install all the necessary components that you may need and change their file permissions to read only. By altering the basic file access permissions, one can optimize a site for security. You can go through several online tutors to learn how to set specific permissions for files and directories.