The ongoing Coronavirus pandemic has sent several countries in lockdown mode. This is crisis time for all economies of the world. At present, there are 2,94,110 confirmed COVID-19 cases and 12,944 deaths reported across the globe. These numbers are rapidly increasing with each passing day and no one knows when this situation would end.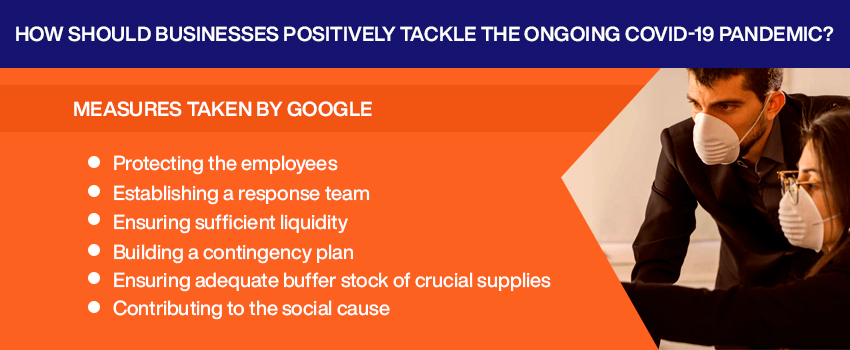 In a crisis time like this, it is necessary for companies across the world to positively tackle the Coronavirus and navigate through it confidently.
Measures taken by Google
Google is asking businesses to update their Google My Business listings if they are affected by the Coronavirus pandemic. This would serve as an effective means for businesses to keep their customers updated with any change in business operations.
Protecting the employees

Employees or workers are very valuable assets of any company or organization. Hence, it is important to chalk out a plan for their protection and safety. During this tough and challenging time of COVID-19 outbreak, the primary goal of all organizations is to protect their employees. The World Health Organization (WHO) and Centres for Disease Control and Prevention (CDC) are constantly updating their guidelines for COVID-19. Companies must ensure that these guidelines are strictly adhered to and their workforce is aware of them. It is also important for organizations to draft their own plans and execute them for the safety of their employees.

Establishing a response team

Businesses should set up a cross-functional response team to manage the health and safety of employees and customers. The team should be led by a senior employee and must be divided to work for employee well-being, supply chain management, financial stress testing, contingency planning, sales and marketing, etc.

Ensuring sufficient liquidity

In difficult times such as the COVID-19 pandemic, it is crucial to have sufficient cash on hand for at least 1-3 months in order to cope up with the immediate expenses like salary and debt payments. Business must not be completely dependent on financial instruments and short term credit capital to cover up the deficit.

Building a contingency plan

After identifying and analyzing the various trigger variables that will have an impact on cost and revenue, organizations can chalk out contingency plans for various outcomes.

Ensuring adequate buffer stock of crucial supplies

The current COVID-19 situation has already had a tremendous impact on the production in countries grievously affected by this pandemic. Hence, it is vital to identify and establish connections with new suppliers in countries less severely affected by the pandemic. This would develop supply chain resilience.

Contributing to the social cause

In a severe pandemic like COVID-19, businesses of all sizes must shoulder some social responsibility. Businesses can provide food, money and clothes to the needy. The Jack Ma Foundation and Alibaba Foundation have pledged to donate 2 million masks, 1,50,000 lakh test kits, 20,000 sets of protective gear and 20,000 face shields to Malaysia, Indonesia, Thailand and Philippines.