Shopify is one of the leading e-commerce websites of the current generation which has a market value of a few million. It is a website building website that hosts several customers throughout the world.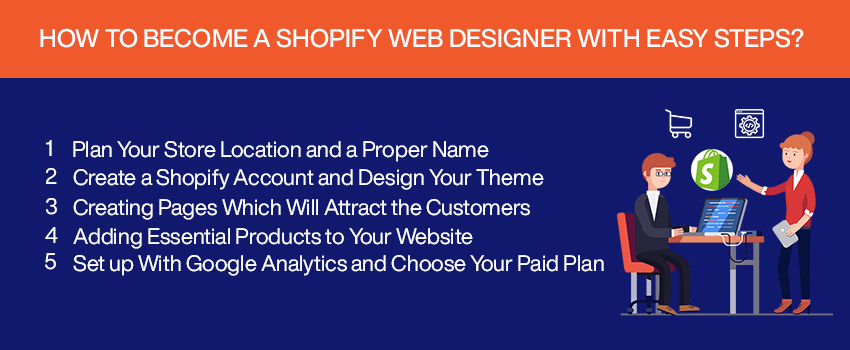 Starting the profession of a web designer is surely not an easy task. You need research and resources which are not easily available in the market. You have to do a thorough search of the same to gain proper information about the topic. It has a learning curve and those who are keen for proper guidance can surely follow this article for proper step-by-step procedure.
Hold on tight, and follow the below steps to know how to Become a Shopify Web Designer?
1. Plan Your Store Location and a Proper Name
Planning the store format does not take much time, rather creating your store properly. The second part is where you should focus mainly, and spend the majority of your time.
You can easily plan your store, without taking virtual help from the internet. You just have to plan your set of goals and follow accordingly.
The profession which you're about to choose is your hobby, or your want to replace your actual day-to-day job with this?
How much time are you willing to devote to this project?
Do you have enough funding to design a website of your own? Or do you need to hire someone for the designing?
Create a proper spreadsheet of your work and follow it accordingly.
Choosing your brand name is also important and you have to be professional in that corner. Try keeping the name short and simple, and also which is easy to remember.
2. Create a Shopify Account and Design Your Theme
You can visit the Shopify website and signup by following their instructions. You can also avail of a 14-day free trial to know about the process more efficiently.
Fill up the blank spaces with exact information about your company, and at last, you'll be ready to start your journey with Shopify!
Choosing a balanced theme is equally important to attract customers to your store. You can choose your favourite by visiting the theme section of the website. Some of the recommended themes are
Minimal
Symmetry
Start-up
3. Creating Pages Which Will Attract the Customers
Now that you've created your home page by setting up a proper theme, you have to create some of the essential pages of the website, which are "Contact Us", "About Us" and "Privacy and Policy".
Without creating these pages, Google will not approve your website associated with Shopify and you'll be unable to earn revenue through the same. You must create the above-mentioned pages to come up with Google's set of guidelines.
4. Adding Essential Products to Your Website
Now, this is the most important part of designing your Shopify account. You have to add products to your page which you want to sell. Add a suitable title of the product and describe it in the description box. Give a proper summary of the product in the description box mentioning it's pros.
You can also add images of the product to make it look more authentic. Make sure that the user can only set up the store in an hour after you start uploading pictures to the same.
Add the price of the product which should be straightforward. You can also add a price in the adjacent box which will compare the price of the product you mentioned. This is an optimizing strategy in converting your product into something beneficial.
5. Set up With Google Analytics and Choose Your Paid Plan
To earn revenue through your website, you have to set up an account in Google analytics to view the statistics. If your website can attract several customers, then Google will reward you accordingly. You just have to take care of the statistics and make sure your website is properly designed to fetch orders.
At last, you have to select a plan in order to remove the password from your store.
Following are the three options available in Shopify:
Basic shopify
Shopify
Advanced shopify
If you're a beginner, then you can start with the basic plan to gain knowledge in the first stage of the business. Further, you can shift to advance keeping in mind the revenue you earn. You can earn up to $20,000 per month if you can follow the steps properly. CitrusStudio has a team of expert shopify web designers to complete your business requirements in given deadline.