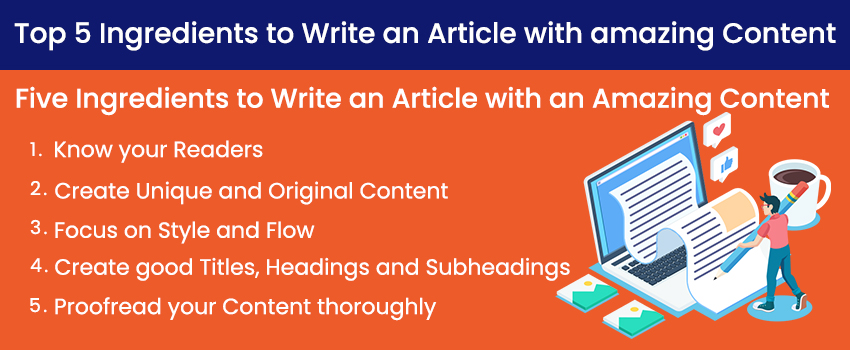 Writing is not a piece of cake that anyone can do. There are specific parameters and skills needed to get the written article content. People who initiate writing or thinking about writing are aware of the basics that the grammar has to be good, the hold on language has to be good, and it should not be copied.
However, this is not enough to make you a good writer. A writer has lots of importance in today's world. Why? Because you need to take care of other aspects of writing seriously. Some basic ingredients can be included in the article for good Content.
Five Ingredients to Write an Article with an Amazing Content
Know your Readers
It is essential to learn about the readers. No matter what your product or services are, you need to know about the readers' psychology to cater to them the right information. You would need to understand their thought process to make sure that you bring the right information to the table.
Create Unique and Original Content
The article content created for the article should be unique and original. It should really be speaking about the business from the business point of view. A new idea or a new dimension of Content should be added to bring originality.
Focus on Style and Flow
Each article looks beautiful and compels the reader to read if they are structured properly. It does not have to be information always from outside the world. Instead, it can be simple and yet impactful. The style and flow of the Content are important too. The Content written should include the right points. All the topics should be covered one by one and in a certain flow that should not confuse the readers. Or else, the readers might not like what you are bringing and not be excited about your blog.
Create good Titles, Headings and Subheadings
The attention span of people has reduced. So, it would help if you made the titles and the heading so enticing that people can get the idea of the blog at one go. Studies show that 80% of people will read the entire blog only when the titles or headings of the points are something different and unexpected. They judge whether they want to read the article or not.
Proofread your Content thoroughly
Making your content error-proof is impossible as people have different perceptions, and there will always be something wrong. However, certain aspects can be taken care of while you read. Proofreading your blog to make sure that it is satisfactory and happy to write it will make it nearly perfect.
Content rules the digital world. Website Content in Mississauga can be best sought at CitrusStudio. The writers are experienced with diverse niches to make sure that your website is best at its originality. Have fantastic Content on your website with Citrus Studio. Contact them now.