Social Networking started a long time back with Orkut but truly it was Facebook that popularized the concept. Once Facebook entered the arena of Social Networking, likes, comments, and shares were what everyone was doing. But Facebook had big ideas. It was further promoted by the introduction of Ads into the users pages. This was just the beginning. Users who owned companies started promoting their products on Facebook. As more and more Social Networking sites came up the concept of Ads was highly promoted whether it was Google itself or others like Instagram. Each one of them happen to have options where users can direct the customers or visitors to perform a specific action when they visit the page.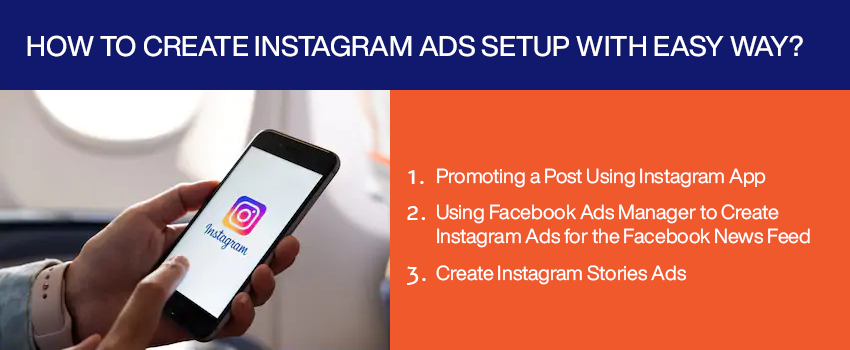 Instagram is today one of the most desired apps for Social Networking. Since Facebook took over the reins of Instagram it has been developing day by providing its users with easy to use options and interface. Like Facebook, Instagram also allows users the option to set up Ads on the users page and all very easily. A user can set up Instagram Ads on his /her page in various ways. These include:
Promoting a Post Using Instagram App
Using Facebook Ads Manager to Create Instagram Ads for the Facebook News Feed
Create Instagram Stories Ads
Promoting a Post with Instagram App
This is perhaps one of the easiest ways by which Instagram Ads can be set up without having to go through a lot of trouble. The prerequisite for setting up Ads is the possession of a business account. Once you have this, move on to your profile and select a post that you need to promote. On the right hand side, you will find a Promote button that you need to tap. Another way to do is by tapping Instagram Insights, moving to the Promotions data and tapping Create Promotions Link. Next, select the post to be promoted and tap the arrow in the top-right.
Once this is done, Instagram lets users pick their promotion from different objectives. It can guide the target audience to visit your web site, see your profile, get directions to a specific address or call your business account's phone number. Select Get More Profile and Website Visits to guide the target audience to visit your website or view your Instagram profile. Tap Destination on the following screen to enter the website URL, or pick your profile. Type the website URL you want to reach your target audience, or pick your company profile. On entering a website URL one of the following options can be chosen from – Learn More, Watch More, Shop Now, Book Now, Sign Up, and Contact Us. Use Reach People Near an Address to guide your target audience to get directions to a specific address or call the phone number on your business page. Tap Select Button Text for the action button on the screen that follows. If you have chosen to offer directions, you need to specify a location address. Next, a Target Audience needs to be specified. This can be either Automatic or you can also Create Your Own. A target audience can be defined for multiple locations and can have up to 10 interests.
Setting the Budget is the next task. This can be done by choosing default budget or duration. A budget can be selected for the duration of the entire promotion or for at least $1 per day.Once you are done tap the Preview tab to view the Promotion the same way as your audience will. To finally submit the promotion for review, tap Create Promotion at the bottom of the screen.
When a Promotion has been approved for a post, Insights start collecting stats about the promoted posts. You can see these from View Insights.
Using Facebook Ads Manager to Create Instagram Ads for the Facebook News Feed
Facebook has updated Ads Manager to incorporate some of Power Editor's best features, so that anyone can make the most of their Facebook and Instagram ads. It is possible to create ad accounts inside or outside of the Business Manager. To start creating an ad for Instagram, click the green Create Ad button. If you had already started creating the ad but left it midway you are prompted to either Start Over to create a new Instagram Ad from Scratch or Continue. Next, select the objective for the Instagram ad. You are allowed to select objectives from Brand Awareness, Reach, Traffic, Engagement, App Installs, Video Views, Lead Generation, Messages, and Conversions. Specify a name for the ad campaign and optionally select the Create Split Test checkbox to check the ad campaign midway. Select the destination your target audience will reach when taping on your Instagram ad, based on the objective you have chosen. You can specify Website, App, or Messenger. Next, you may also create an offer for the ad but once again this is an optional step. If you choose to do so, you will be required to configure the offer before clicking Create. You will then have to choose a variable for split testing. Various options are available but choosing Creative allows you to test up to five different ad creatives from the Ads Manager. Once the variable has been selected move over to defining your audience.
You have the option to Create Custom Audience or just lookup existing ones. Click Create New for creating a new audience or click Use A Saved Audience to explore from the already available list. You can choose what type of audience you want from the Locations drop down. Click Worldwide to pick major cities all over the globe. Click on the country to pick cities within a particular country, and pick Only Include Cities from the arrow that appears. Under Detailed Targeting, identify the target audience by additional demographics, preferences, habits and activities unique to Facebook. You can also define your audience under Connections as to how they are connected to you – through Pages, Apps, or Events. Click the Save Audience button to save the audience information. Choose Select Placements to select where your ads must be shown. Valid choices include Automatic Placements and Edit Placements. On selecting Edit Placements you are required to choose the Device Types and Platforms. Next you may want to set up Delivery optimization and conversion window options.
The next step includes specifying the Bid and when you get charged. Also, ad scheduling and Delivery Type specification need to be specified here only. After all this you specify a Budget and Schedule for your ad. Now, name your ad and select the corresponding Facebook page and Instagram account you want to link to your ad to get started on your ad creative. If you haven't linked your Facebook page to an Instagram account, click the Add an Account button. You can log into an existing Instagram account or build a new Instagram account to connect to your Facebook page using this method. Choose from the ad formats, such as Carousel, Single Image, Single Video, Slideshow or Collection for your Instagram ad in the news feed, depending on the marketing purpose you have chosen for your Instagram ad campaign. You can also Add a Full-Screen Interface for most ad formats to transform your news feed ad into a more powerful Canvas interface. Choose Advanced Options to add optional features to your ad. Last of all click the Confirm button to submit your ad for review.
Create Instagram Stories Ads
To create Instagram Stories Ads, the steps involved are more or less the same as the ones we have already covered in the previous two cases. We start by specifying the Objectives and then move on to Select Placements. Next, choose Single Image or Single Video as the Ad Format. Configure destination and call to action depending on your chosen marketing objective for your Instagram ad campaign and ad format. Since you're making Instagram Stories, make sure that the image or video itself includes any text that you want displayed.
Wrapping It Up
The Instagram App and the updated Ads Manager allow you to accurately create Instagram ads for news feeds and Instagram posts, so you can get the best results for your advertising budget. In addition, CitrusStudio provide us the various options to launch a product or a service for the people who actually require them. This increases the chances of a bigger profit for any business that wants to make use of Instagram Ads to popularize its products.