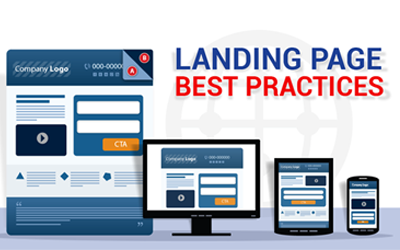 Bringing your business online is hard, and marketing it on the web is even much harder. Before preparing to brand your products or services, make sure that you plan a powerful marketing and advertising strategy that drives more conversions and sales. Though there are several ways of promoting a business, an effective way to achieve it is through landing pages.
What are landing pages?
Although landing pages or landers are part of a website, they are optional pages which may or may not be included, depending on the client requirements. Landing pages are generally built to promote a business with definite calls to action. They have only a single area of focus i.e. encouraging visitors to take an action. They are meant to boost the user conversions and leads.
Tips to keep in mind while designing a landing page:
A landing page is just a single page. This means that you have to include all the necessary information that you want to convey to your visitors in this single page only.
There is no need to use a navigation menu, but try to include anchor links. Simpler the page design, more converting it will be.
To ensure that all the necessary information is provided to the clients in an easy to read manner, include clear and precise information in a landing page. Avoid distracting clients by including irrelevant information as it can ruin your business reputation.
Include tempting calls to action that will compel your visitors to click or ask for a free quote. Let's get started, Sign up, Subscribe, Book Now, Donate etc. are some simple yet, innovative calls to action that actually works.
Visitors are more attracted towards beautiful designs, stunning graphics and easy to read landing pages. To boost user conversion, make sure that you design a lander that grabs user attention at once.
Landing pages are an important aspect of business marketing strategy. Here are some basics of landing pages along with tips to design lead converting ones. If you are looking to boost your conversion rates with appealing landing pages, consult our Mississauga web developers at Citrus Studio right away.