Starting an online business requires consideration of many components. Selection of the right domain, creating an attractive website, powerful management is not enough if you do not have an excellent payment gateway.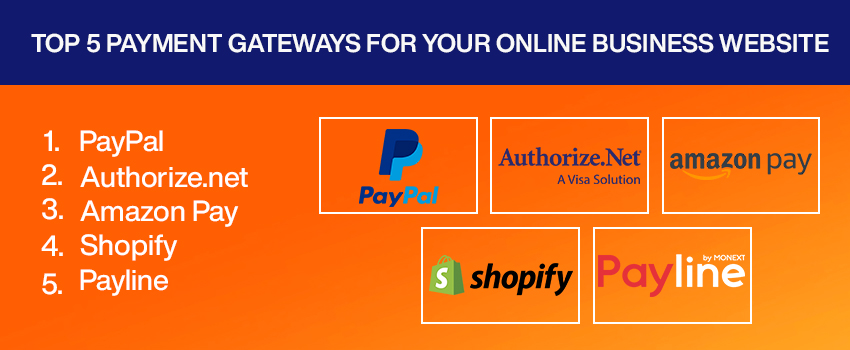 Online businesses require a medium to collect money from customers successfully and transfer it to their account. If soon-to-be customers do not find a payment medium of their preference or face difficulties in making payment, it will break their trust. You may lose your customers due to these issues.
Payment gateways allow the customers to make payment of their purchase through the website. Further, the website owners can withdraw this amount easily in any way they want. Payment gateways process all the online payments. The customers send debit/credit card information to transfer the purchase amount into the store and then bank account. The merchants get the notification of payment approval and disapproval. Hence, payment gateways play a simple role in accepting and rejecting the transaction.
However, some payment gateways charge the cards with fees in between 1.4%-3.5% to merchants ordinarily. But it doesn't mean you should ignore this essential component of your customer's experience. Selecting the right payment gateway provider will make your work hassle-free. Many providers are offering secure and reliable payment experience.
But it would be best if you make a choice based on your needs. Here, you will get the best payment gateways list and the crucial information about them.
PayPal
With millions of active accounts, PayPal is one of the oldest and recognized payment options for online business. It lets you accept payments from all over the world. However, it is only accessible to merchants of the UK, US, and Canada. You can make the checkout experience of your customers more convenient with this gateway. The card processing charges are 2.9%+$0.30 per transaction. Hence pricing is competitive and ideal for low volume merchants.
Features
Accepts all international credit cards, including MasterCard, Visa, and Discover
Easy cart integration and APIs
Mobile optimized site
Secure online payment solution
No Initial setup fee
Authorize.net
Authorize.net is designed for all kinds of online businesses. It is mainly available to the merchants registered in the US, UK, Canada, Australia, and Europe. It supports all major credit cards and shows compatibility with digital payment services like PayPal, Visa, and Apple pay. However, it charges a setup fee of $49 and a monthly fee of $29. The transaction fees are set to 2.9%+$0.30
Features
Accepts payments from major credit cards, PayPal, and Apple Pay
Excellent support and security
Transactions handled on-site
Received money transferred to bank on two days rolling basis
Amazon Pay
After PayPal, Amazon pay is one of the trusted payment gateways for online businesses. The best part is you can take advantage of all the Amazon benefits without paying any monthly fees. It provides a simple payment experience to your customers as they will need to enter the delivery address and payment method with amazon login. Also, Amazon's fraud protection measures have a positive impact on customers and help you gain their trust. The transaction pricing remains the same as other providers (2.9%+$0.30).
Features
No setup or monthly fees charged
Protects business with proven fraud detection technology
Easy to customize
Three to five days of settlement time
Good integration with sites
Shopify
It is only a payment gateway providing a 14 day free trial for its users. So you can try it first and then decide on purchasing this gateway for your website. If you are keen to get a complete solution for taking payments online, then Shopify is a name for you. The transaction fee is 2.2%+20p.
Features
Cheapest gateway with 2.2% transaction fee charges
More than 100 customizable themes
Free 14-day trial
Full e-Commerce package.
No credit cards required to join Shopify
Payline
Payline is the newest member in the section having advanced features for its users. Also, this gateway offers payment processing and web solutions to online businesses. It follows the interchange-plus pricing model to calculate fees. For online stores, the monthly fees are fixed at $20 per month, and the transaction fee is 0.3%+$0.20.
Features
Built-in security
ACH Payments support
Compatible with Shopify, Wix.com, and BigCommerce.
Mobile App integration
Last Words
If you are in a dilemma and don't know which payment gateway to choose, you should know that you can select more than one portal for your business. However, you will need to pay additional costs. Contact CitrusStudio Mississauga directly and get assistance from them based on your business needs. You can decide after comparing the quotes you have received from them. It is the simplest way to select any payment gateway for you.
We have provided you the list of top payment gateways suitable for your online business. You will find more options than these providers, but be careful about on-site processing, fees, and features of those gateways. If you have a small business, Research the options carefully, then make a decision.